Accessories / Coffee Tables
T-Gong
Designer Giuseppe Bavuso, year 2011
The inspiration comes from the famous "Gong" percussion instruments typical of Asian countries. T-Gong, a transposition of the ancient musical tradition in modern architecture: the metallic discs are transformed into convenient occasional tables. The table tops have a slightly raised edge and are perfectly circular with a unique polish that creates concentric reflections that decorate the surface naturally.
T-Gong
Top and base in the following
finishes: painted steel with a metallic bronze
satin finish or stainless steel with Peltrox or
copper finish. Brass satin inserts.
The certified quality of Alivar's italian design solutions, all traditionally-made using top-quality materials, becomes the focal point of furnishings where style is an experience to be explored. A collection born from formal creativity and sensibility for materials and a journey into the beauty of contemporary spaces. Home design where each detail is unique and where each item is a point of interest to be cherished and enjoyed. Home Project anticipates and interprets modern living and create a contemporary style which is timeless. Behind the collection's success is the creative spirit of the designer Giuseppe Bavuso who has spent years passionately coordinating, planning and designing this collection.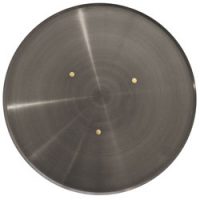 Colors and finishes are approximate and may slightly differ from actual ones. Please visit ALIVAR dealers to see the complete sample collection and get further details about our products.